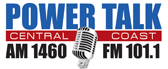 Welcome to the website of the only radio show on the Monterey Peninsula that broadcasts LIVE via remote from a golf course every week! In fact, we're celebrating our 16th year of doing just that!

Join us every Saturday morning at 9am on 1460am or 101.1fm KION for a great cup of coffee and fun talk in the grill of the historic Del Monte Golf Course! Listen on the radio or come on down and be part of the show! Sure...we talk about golf...but, there's much more to life and we try to touch on those subjects as well.

Travel, music, movies, food and wine, cars, real estate, finances, medical, legal, local events, happenings, and more!